This is an archived article and the information in the article may be outdated. Please look at the time stamp on the story to see when it was last updated.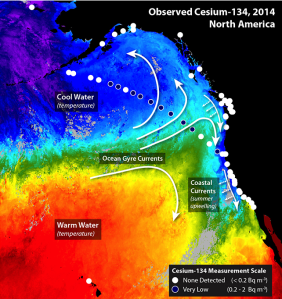 EUREKA-
Scientists monitoring effects along the west coast from Alaska to San Diego have found small amounts of radioactivity from the 2011 Fukushima power plant accident 100 miles off of the California coast near Eureka.
According to the Woods Hole Oceanographic Institution, scientists found the trace amounts of radioactive compounds as part of their ongoing monitoring of radioactivity in the ocean.
Researchers were clear that the water containing cesium-134, a contaminant from Fukushima, had levels far below any measurable risk to human health or marine life, according to international health agencies.  The amount of radiation is more than 1000 times lower than acceptable limits in drinking water set by US EPA.
"We don't know exactly when the Fukushima isotopes will be detectable closer to shore because the mixing of offshore surface waters and coastal waters is hard to predict," said Ken Buesseler, the marine chemist who is leading the monitoring effort. "We stand to learn more from samples taken this winter when there is generally less upwelling, and exchange between coastal and offshore waters maybe enhanced."
The group forecasts that detectable amounts of cesium will move south along the west coast and eventually back towards Hawaii, but models differ greatly on when and how much radiation will be found.
The offshore radioactivity report came from water samples collected and sent to Buesseler's lab for analysis in August.