This is an archived article and the information in the article may be outdated. Please look at the time stamp on the story to see when it was last updated.
ALTURAS-
The widower of an Alturas tribal shooting victim is speaking out about the motive behind February's gun and knife attack that left four dead and two others seriously injured.
"I want people to know that my wife's heart was in the right place. It wasn't about exposing fraud and evicting people. That just happened," Philip Russo said.
He and his wife, Shelia Russo, moved to Alturas from Bakersfield eight months ago.
"We would travel far and wide for her work. Shelia loved it," Russo said.
Shelia was the Tribal Administrator for Cedarville Rancheria, a 35 member tribe of Northern Paiute Indians in Northern California. Russo works at the Modoc County jail.
"We were still newlyweds," Russo said.
Philip called FOX40 News a week after our coverage of the shooting in February. He invited us into his home in Alturas, to learn more about his late wife.
"She gave me this card for Valentine's Day. As I look at it, it talks about, I don't know what I would ever do without you. I know it's a stupid cheesy card, but that's what we always said to each other," Russo said, fighting back tears.
Less than a week later, Phil Russo's wife was shot to death during an eviction appeal hearing for longtime Tribal Chairwoman, 44-year-old Cherie Lash Rhoades, and her son, Jack Stockton. Rhoades is the only suspect in the mass shooting.
VIDEO: Armed with Guns, Butcher Knife, Woman Kills 4 at Tribal Office
"Cherie Rhoades had always tried to intimidate tribal employees with violence, tribal members with violence," Russo said.
Russo said Cherie Rhoades, her son Jack Stockton, and his wife, Erin Stockton were hoarding tribal grants.
"My wife told me everything about her job. Every detail, every move, we talked about it," Russo said.
Shelia told her husband that Rhoades would not let her use the federal grants for their intended purposes. Shelia eventually fired Erin Stockton, the tribes Chief Financial Officer, because the accounting was so poorly done.
"She went into Erin's office and started to go through the records, just started to peel back the onion. And she started noticing Cherie's name on some of these purchases," Russo said.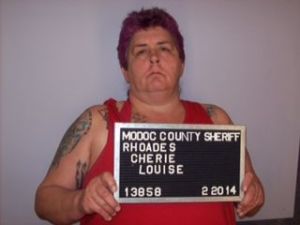 Russo said his wife discovered that Rhoades had been using the grant money on personal purchases, hotel stays, extravagant gifts and $30,000 cash payouts for her friends. Shelia Russo believed drug tests had been doctored in order to make some of the tribal members fail upon retesting so that the remaining tribal members would get a larger chunk of federal grant money.
Russo said his wife even thought the sale of the tribal building for $300,000 was done unethically.
FOX40 investigated and found internal documents substantiating some of Shelia Russo's concerns and allegations.
Shelia Russo turned her findings over to federal authorities, and they started an embezzlement investigation into Cedarville Rancheria.
"They throw a $50,000 figure out there, but thats probably half of what is out there. And that's only for 2012. Cherie was the Tribal Chairwoman for probably the last 10 years," Russo said.
Shelia told her husband she believed hundreds of thousands of dollars could have been embezzled over that time.
"My wife had the savvy to take Cherie's firing power of out her hands," Russo said.
Months ago, Shelia approached the tribe's Executive Committee about Rhoades. Shelia told Philip whenever anyone questioned tribal finances in the past, Rhoades promptly fired them. Shelia thought Rhoades would fire her if she got the chance.
The Executive Committee voted to make the entire tribe vote on firing Shelia, if anything happened in the future.
"As my wife was in Erin's office, continuing to go through the books, Cherie and Jack showed up. They said, 'You're fired, you're out of here,' and my wife was like, 'Wait a minute, you don't have the right to fire me.' So Cherie said, 'Fine, you're on administrative leave,' and Shelia said, 'You don't have the right to do that either,'" Russo said.
This was the first time anyone in the tribe challenged Rhoades, and succeeded.
"Cherie Rhoades actually tried to shove my wife back into the building," said Russo.
Russo said Shelia went to local authorities for help, but they said Shelia's allegations about Rhoades were federal offenses.
"They were forced to take matters into their own hands," Russo said.
That's when the tribal members signed a petition to recall Rhoades. Months later, they evicted her along with her son.
The day after the eviction hearing, Rhoades showed up at her appeal hearing at the Cedarville Rancheria tribal office, where she is accused of killing four people and attempting to kill two others. Four of the six victims were  close relatives of Rhoades, including her own brother.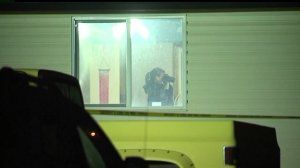 "We only have one suspect. We have five or six live witnesses who were present in the room," Modoc County District Attorney Jordan Funk said.
One of those witnesses was a victim herself: Rhoades' niece, Monica Davis.
"Monica said, 'Yes, I'm shot,' and Cherie said, 'I would have killed you too if i didn't run out of bullets,'" said Russo.
The only thing Funk would say about the crime scene, was how people were positioned inside the tribal office. Funk said right before the shooting, Rhoades was kneeling on a chair with her hand in her pocket. Funk says Rurik Davis, Angel Penn, Glenn Calonico, Shelia Russo, Melissa Davis and Monica Davis were seated at a long table in front of Rhoades. He says multiple other people were in the room.
Funk said this is most likely not a case where they need to identify a suspect. He said  it is a case where they will need to determine whether or not they should seek the death penalty.
"Capital cases frequently drag out. We want to avoid that here. We want justice for the victims," Funk said.
The Modoc County Undersheriff  told FOX40 News he was the first on scene at the tribal office, minutes after the shooting. He said when he arrived, Rhoades was in the parking lot, stabbing one of the victims in the chest with a butcher knife.
He said Cherie fumbled and dropped her knife, and that's when he tackled her. The Undersheriff said the crime was caught on camera from surveillance mounted outside the tribal office, inside the tribal office, and on his body camera.
Russo watched in court, weeks later, as Rhoades pleaded not guilty.
"I go for Shelia. We had each others' back. So I go and I stare. I look at her. She won't look at me. It's pretty apparent to me that she won't look at me," Russo said.
The Russo family is accepting donations to help pay for funeral expenses and loss of work following Shelia Russo's death. You can donate at any U.S. Bank under "Shelia Russo Donation Account." You may also call the Alturas Branch of U.S. Bank at (530) 233-4116
4 Dead, 2 Injured after Shooting at Eviction Meeting on Reservation
VIDEO: Armed with Guns, Knife, Woman Kills 4 at Tribal Office
Sacramento-area Tribal Members React to Deadly Shooting at Tribal Office