This is an archived article and the information in the article may be outdated. Please look at the time stamp on the story to see when it was last updated.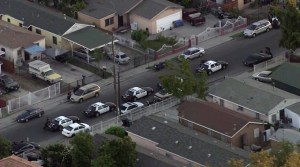 SOUTH LOS ANGELES (KTLA) — An LAPD gang officer was shot in the face Tuesday outside a house, according to authorities.
The shooting occurred around 7:30 p.m. at a home in the 2200 block of 117th Street in Los Angeles.
Earlier in the day, two LAPD officers entering the Wilshire police station were shot in what police call an ambush. Police have not said if these two incidents are related.