This is an archived article and the information in the article may be outdated. Please look at the time stamp on the story to see when it was last updated.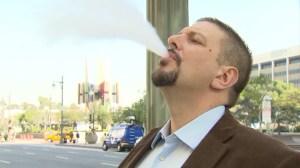 LOS ANGELES (KTLA)-
The Los Angeles City Council voted unanimously Tuesday in favor of a controversial ban on the use of e-cigarettes in areas of the city where tobacco smoking is prohibited.
The ban was first introduced last month and was moved forward in February by a council committee. It amends city code to include e-cigarette use in the definition of "smoking" with regard to smoke-free policies in the city.
The ban means "vaping" will be prohibited in bars, restaurants, and many workplaces and public spaces.
"This is something that will ensure public safety for people who don't necessarily want to be around vapors from e-cigarettes," said Councilman Mitch O'Farrell, one of the authors of a motion to create a city ordinance banning vaping, at the time of the committee vote.
Read the "vaping" industry's response on KTLA.com