This is an archived article and the information in the article may be outdated. Please look at the time stamp on the story to see when it was last updated.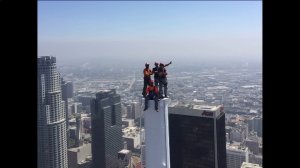 LOS ANGELES (AP) — A new skyscraper in downtown Los Angeles has become the tallest building west of the Mississippi River.
Construction workers on Saturday placed a 10-ton spire atop the Wilshire Grand Tower. The spire adds 160 feet to the 73-story building. That makes it 1,099 feet high.
That's 81 feet higher than nearby U.S. Bank Tower, which held the tallest building record since 1989.
The Wilshire Grand still has some construction work scheduled. The $1 billion hotel and office complex is scheduled to open next March.