This is an archived article and the information in the article may be outdated. Please look at the time stamp on the story to see when it was last updated.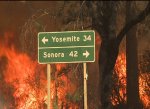 SACRAMENTO-
The man accused of starting one of the biggest wildfires in California's history was released from jail Friday on a $60,000 bond.
Keith Emerald pleaded not guilty on Tuesday to charges of setting timber afire, leaving a fire unattended, violating a fire restriction order and making false statements to a government agency.
He will be back in federal court in October.
The Rim Fire burned from Aug. 17 to Oct. 24, 2013. Eleven homes were destroyed and more than 250,000 acres burned. The fire cost $127 million to fight.