This is an archived article and the information in the article may be outdated. Please look at the time stamp on the story to see when it was last updated.
SAN DIEGO (CNN)-
California authorities this week arrested Charles "Chase" Merritt in connection with the deaths of the McStay family — a southern California family of four that vanished in 2010, San Bernardino County Sheriff John McMahon said Friday.
The suspect, a business associate of Joseph McStay, was arrested Wednesday and charged with four counts of murder, officials said.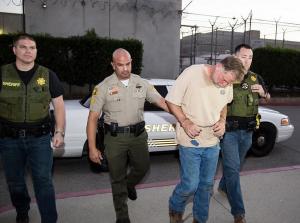 Evidence leads investigators to believe that the four McStay family members were killed at their home in Fallbrook, California, said San Bernardino County Sheriff John McMahon on Friday. The four died of blunt force trauma, he said. Investigators also believe that the McStays did not cross into Mexico after their disappearance, and that a video that appears to show a family crossing the border around that time does not show the McStay family, an investigator said at a news conference.
[Original story, posted at 8:54 a.m. ET]
California authorities to give update on McStay family disappearance
Almost a year to the day after an off-road motorcyclist found the remains of a California family that had vanished from their home in 2010, authorities on Friday called a news conference to discuss developments in the case.
Joseph and Summer McStay and their two children, 4-year-old Gianni and 3-year-old Joseph Jr., disappeared under mysterious circumstances from their Fallbrook, California, home in February 2010.
Police who searched their home days after the family disappeared found eggs on the kitchen counter and bowls of popcorn in the living room, along with the family's two dogs. There were no signs of a struggle.
Despite finding the family's SUV in San Ysidro, California — where it had been towed from the Mexican border — and video surveillance that showed a family matching the description of the McStays crossing the border, authorities had no clue what happened to them until the discovery of their bodies on November 11, 2013.
A motorcyclist passing through the area found the remains in two shallow graves not far from Interstate 15 in San Bernadino County, more than 100 miles from the family's home north of San Diego.
Authorities identified the remains using dental records. At the time, San Bernadino County Sheriff John McMahon said the killings appeared to be "extremely orchestrated" and carried out by more than one person.
But authorities declined to explain how the family died or to detail evidence collected from the scene.
At the time, Joseph McStay's brother emotionally promised justice for his brother and his family.
"You guys are cowards," he said of those who killed the family. "And all of America is coming after you. And we're going to find you. And we're going to prosecute you."
CNN's Randi Kaye, Jessica Small, Melissa Dunst Lipman, Dana Ford, Greg Botelho and Chandrika Narayan contributed to this report.