This is an archived article and the information in the article may be outdated. Please look at the time stamp on the story to see when it was last updated.
OAKLAND — An advertisement posted online for a home in Oakland is the prime example of the competitive housing market Bay Area residents face.
A Bay Area photographer, Four Seven Photography,  posted a photo of a rundown home in Oakland on the market for $399,000.
"This is the reality in the San Francisco Bay Area right now. This is real. Look it up for yourself. How are we supposed to become homeowners in this market?"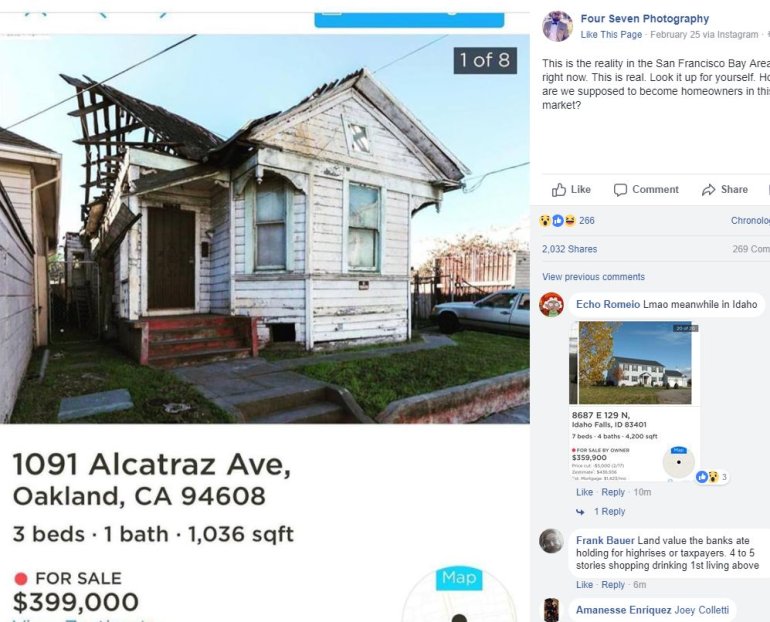 The post has been shared over 2,000 times on Facebook.
The comments section was filled with photos of much bigger houses for sale in other areas across the country.
The 1897-built, 1036-square-foot, single-family home has three bedrooms, one bathroom, no air conditioning/heat and sits on a 5,357-square-foot lot, according to Zillow.com.
The home is 34.5 percent less expensive than the median home in the area.
The website also predicts homes in the Paradise Park neighborhood will increase in value by 3.3 percent next year.
In a recent article, FOX40 explored how home prices in the U.S. have almost doubled, while median household income has barely budged.
Surrounding cities San Francisco and Berkeley were named in the Top 15 Least Affordable Housing List.
A typical earner purchasing a typical home in any one of these areas would need to work over 2-3X the standard 40-hour work week to get approved for a mortgage.