This is an archived article and the information in the article may be outdated. Please look at the time stamp on the story to see when it was last updated.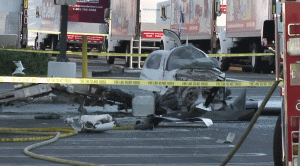 SAN DIEGO (KSWB)–
A woman died and another was seriously injured after a small plane crashed into a Costco shopping center parking lot in Kearny Mesa Wednesday evening, according to authorities.
Emergency crews responded to a single-engine Mooney M20 crash along Othello Avenue in the Costco Business and Target parking lot around 5:30 p.m.
Both victims were transported to Sharp Memorial Hospital, where one was pronounced dead, San Diego police said.
A man waiting for his girlfriend to get off work from Target told Fox5 he saw the plane hit a light fixture near the Target store and crash into the parking lot.  He said people armed with fire extinguishers ran toward the wreckage, where black smoke was pouring out of it.
Continue reading this story on FOX5SanDiego.com.