This is an archived article and the information in the article may be outdated. Please look at the time stamp on the story to see when it was last updated.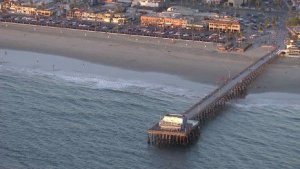 NEWPORT BEACH (LA Times) — A passenger in a helicopter flying over the Newport Beach shoreline Tuesday opened the door and jumped out, falling about 500 feet to the ocean, authorities said.
The man later died at a local hospital.
Newport Beach police are investigating the 60-year-old man's death as a possible suicide. The Federal Aviation Administration is also reviewing the incident.
The man had apparently booked a 30-minute coastal tour for two people but showed up alone, said Chuck Street, a longtime helicopter pilot whose son was flying the chopper. The man paid $310 in advance for the flight.
At about 12:45 p.m., Street's son, Corbin, took off with his passenger from Fullerton Airport, planning to follow a typical path toward Irvine, over Pelican Hill and north along the coast, Street said.
About 15 minutes later, dispatchers received reports that someone had fallen from a helicopter near the Balboa Pier, said Newport Beach Police Department spokeswoman Jennifer Manzella.
Read more at LATimes.com.