This is an archived article and the information in the article may be outdated. Please look at the time stamp on the story to see when it was last updated.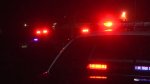 ANTIOCH-
Antioch Police say a man intended to rob a bank Monday, but was foiled by his illegible handwriting.
The man walked into the Wells Fargo branch on Somersville Road and handed a note to a teller. According to investigators, the teller had a hard time making out what the note said and took it to a manager for help.
The manager and teller worked together, police say, and were able to figure out the man was trying to rob the bank and they called the police. By then, investigators say the man left.
Not long after, police got a call about an "unwanted guest" at the Somersville Towne Center mall. Responding officers say the man, 29-year-old Jamal Garrett, matched the description of the man from the bank.
Witnesses from the bank were also able to identify Garrett as the man from the bank, investigators say.
Garrett was arrested for attempted robbery and parole violation.