This is an archived article and the information in the article may be outdated. Please look at the time stamp on the story to see when it was last updated.
YOUNTVILLE -- The Army veteran who killed three women after a siege in California had long dreamed of serving his country in the military, but his skill as a marksman led to dangerous missions in Afghanistan that left him anxious and wary when he came back home, according to people who knew him.
Authorities said 36-year-old Albert Wong, who served a year in Afghanistan and returned highly decorated, took the women hostage Friday at the Yountville veterans center where he had sought help.
Hours later, authorities found all four of their bodies in a room at the center that aids people with post-traumatic stress or traumatic brain injuries.
Yountville's Mayor John Dunbar described the horrific actions of Wong in a press conference Saturday.
Dunbar said the employees killed in the hostage situation at the Veterans Home of California will be remembered as beautiful people and called the gunman "one of our heroes who clearly had demons."
As family and friends of the victims tried to make sense of the tragedy, authorities offered little information Saturday about why Wong attacked The Pathway Home and whether he targeted his victims.
Those who knew the women said they had dedicated their lives to helping those suffering like Wong, and they would've been in a good position to assist him if things had ended differently.
Authorities said Wong slipped into a going-away party for some employees of The Pathway Home. He let some people leave, but kept the three women.
Police said a Napa Valley sheriff's deputy exchanged gunshots with Wong but nothing was heard from him after that. From a vet-center crafts building across the street from the PTSD center, Sandra Woodford said she saw lawmen with guns but the only shots she heard were inside Pathway.
"This rapid live-fire of rounds going on, at least 12," Woodford said.
The victims were identified as The Pathway Home Executive Director Christine Loeber, 48; Clinical Director Jennifer Golick, 42; and Jennifer Gonzales Shushereba, 32, a clinical psychologist with the San Francisco Department of Veterans Affairs Healthcare System.
A family friend told The Associated Press that Gonzales was seven months pregnant.
"These brave women were accomplished professionals who dedicated their careers to serving our nation's veterans, working closely with those in the greatest need of attention after deployments in Iraq and Afghanistan," The Pathway Home said in a statement.
Before his time at The Pathway Home
Property records show Wong lived in a home on Redwood Avenue in the Noralto neighborhood of North Sacramento. While nobody answered the door Saturday when FOX40 went to the home, neighbors confirm Wong had been staying in the home in the past month but they described him as more of a visitor than a resident.
"Who would have assumed that it would trace back here to my neighborhood?" said neighbor Stephanie Vallejos.
Family friends declined to comment but many who live on the street, like Vallejos, were surprised.
"My daughter lives here and this is a neighborhood that my grandkids are in, and it's sad that somebody like that lives in this neighborhood," Vallejos said.
Wong always wanted to join the Army and serve his country and was "soft-spoken and calm," said Cissy Sherr, his legal guardian when he was a child.
Sherr and her husband became Wong's guardians after his father died and his mother developed health problems, she said. He moved back in with them for a little while in 2013 after he returned from his deployment in Afghanistan and kept in touch online.
Wong thought the Pathway program would help him readjust after the Army, she said.
"I can't imagine what happened. It doesn't make any sense to me," she said.
Dunbar, a member of The Pathway Home's board of directors, said the program has served over 450 veterans in more than a decade.
The program is housed at the Veterans Home of California-Yountville in Napa Valley wine country. The largest veterans home in the nation cares for about 1,000 elderly and disabled vets.
Golick's father-in-law, Mike Golick, said in an interview she had recently expelled Wong from the program.
After Wong entered the building, Golick called her husband to say she had been taken hostage by the former soldier, her father-in-law said.
He didn't hear from his wife again.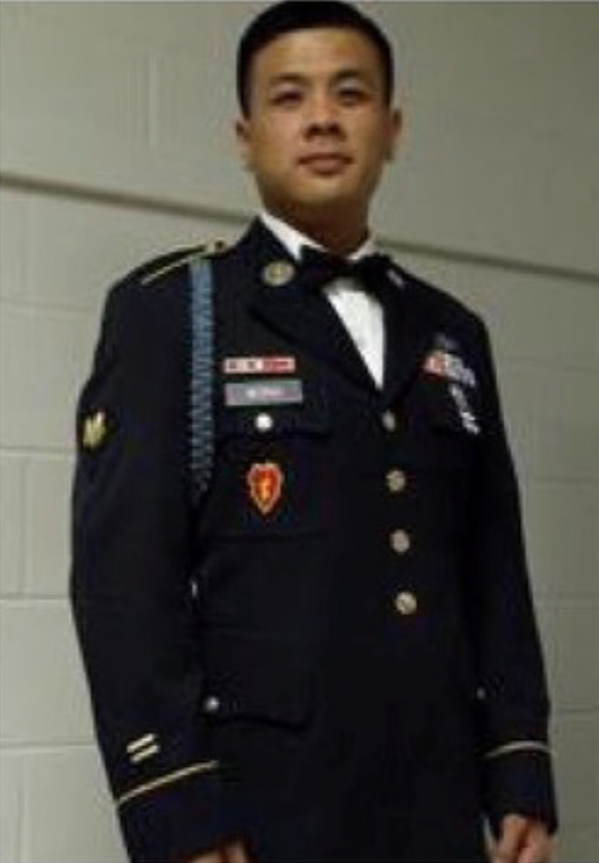 At the veterans home, people who served in earlier wars passed the building that houses The Pathway Home, which was surrounded by crime tape.
Muriel Zimmer, an 84-year-old Air Force veteran of the Korean War, said she feels badly for Wong, saying she "cannot blame him. It's because of the war."
The gunman served as an infantryman in the United States Army.
Wong served in the Army Reserve from 1998 until 2002 and then enlisted for active duty in May 2010 and was deployed to Afghanistan in April 2011, according to military records.
He earned several honors, including campaign stars for fighting global terrorism and marksmanship as well as an Army Good Conduct Medal and an Army Commendation Medal. But that meant that he was tasked with dangerous assignments, where he saw "really horrible things" that affected his mental well-being, Sherr told the Associated Press.
Public records show Wong was also licensed as a security guard and security trainer. He was issued a firearms permit from the Bureau of Security and Investigative Services.
When Wong found the veterans program in Yountville, he told Sherr, "I think I'm going to get a lot of help from this program," she said.