This is an archived article and the information in the article may be outdated. Please look at the time stamp on the story to see when it was last updated.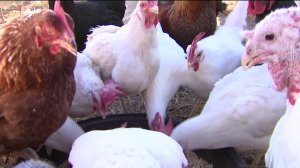 LOS ANGELES (KTLA) — After 278 people, most of them in California, have been sickened in a continuing salmonella outbreak, federal agriculture officials issued a health alert Monday for Foster Farms chicken.
There's concern that raw chicken produced by three Foster Farms plants located in California is associated with illnesses cause by strains of Salmonella Heidelberg, the U.S. Department of Agriculture's Food Safety and Inspection Service announced.
In 18 states, 278 illnesses have been reported, according to the USDA.
The outbreak has not been linked to specific products or production dates, the USDA stated. Consumers can check if their Foster Farms raw chicken products came from any of the three facilities involved by finding one of these codes inside a USDA mark of inspection or elsewhere on the package:
Read more: http://ktla.com/2013/10/07/salmonella-outbreak-prompts-concern-about-foster-farms-chicken/