This is an archived article and the information in the article may be outdated. Please look at the time stamp on the story to see when it was last updated.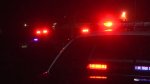 OAKLAND-
Police arrested a security officer at Oakland High School after a fight with a student in a wheelchair.
According to a statement from Principal Matin Abdel-Qawi, the officer was urging students to get to class on May 19, including one in a wheelchair. The student was either slow to move or just refused to leave the hallway, according to the school.
School administrators say the officer began pushing the student's chair to class when the student tried slapping away the officer's hands. The officer then apparently handcuffed the boy and kept rolling him to class, Abdel-Qawi said.
According to the school statement, the student then spat in the officer's face. The officer then struck the student a few times before dumping him out of his chair, the school said.
He reportedly had to be restrained by another security officer before ultimately getting arrested.
"I'm shocked and deeply hurt by this behavior and apologize on behalf of the staff at Oakland High. This incident is not reflective of the kind of culture we cherish at our school or how we treat one another," Abdel-Qawi said.