This is an archived article and the information in the article may be outdated. Please look at the time stamp on the story to see when it was last updated.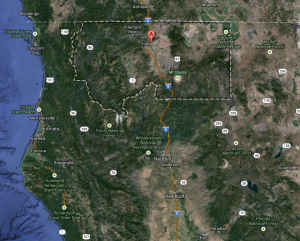 (LA Times) — It's the Golden State's latest version of the Great Secession.
Fed up by Sacramento's regulations and Southern California's political sway, residents in one rural Northern California county are taking steps to leave the state.
The Siskiyou County Board of Supervisors voted, 4-1, on Tuesday to pursue seceding from California, the Redding Record Searchlight reported. Proponents say Siskiyou should form a new state — called Jefferson — with other counties in Northern California and Southern Oregon they believe share similar interests.
On Tuesday more than 100 people filled the supervisors' chambers, many of whom indicated support for the declaration, the Searchlight reported. When a speaker asked those in the audience who was in favor, "nearly every hand in the room was raised," the newspaper said.
"Many proposed laws are unconstitutional and deny us our God-given rights," said Happy Camp resident Gabe Garrison. "We need our own state so we can make laws that fit our way of life."
"The state of Jefferson is the place I want to raise my son," Kayla Brown said.
Resident complaints include a lack of representation in Sacramento and insufficient attention to major issues for the county, such as water rights and a rural fire prevention fee, the Searchlight reported.
Read more at LATimes.com.