This is an archived article and the information in the article may be outdated. Please look at the time stamp on the story to see when it was last updated.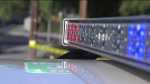 SAN JOSE-
The San Jose State University campus resumed normal Thursday morning after reports that there was possibly a gunman on campus.
Campus police searched the area around Sweeney Hall, but came up empty.
The school tweeted later that "normal activity" can resume.