This is an archived article and the information in the article may be outdated. Please look at the time stamp on the story to see when it was last updated.
LOS ANGELES-
It's human nature to wonder what happens to a generous donation after it's given.
A Southern California man decided to follow a man after he was given $100. What he discovered was pretty neat.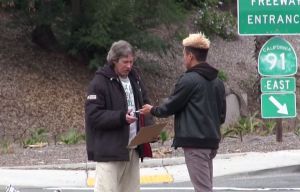 Josh Paler Lin gave a man $100 in cash, and recorded the experience.
He then secretly followed the man, named Thomas, to find out what would happen next.
They filmed Thomas for almost an hour, over a couple of miles. Lin finds himself apologizing for his assumptions.
Watch the above video for surprising turn of events.