This is an archived article and the information in the article may be outdated. Please look at the time stamp on the story to see when it was last updated.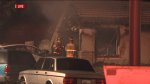 ELK GROVE –
A family's new hybrid caught on fire after flames from an Elk Grove garage fire shot onto the car.
The car was parked in front of the garage on Hydrangea Court near Calvine Road when the fire started around 3 a.m.
Cosumnes Fire Department firefighters are not sure how the fire stared.
A woman living in the house heard the smoke detector and rushed out her four family members.
The front door was very close to the garage, so the family had to run out to the backyard to avoid the fire.
No one was hurt and the cause of the fire is still under investigation.