This is an archived article and the information in the article may be outdated. Please look at the time stamp on the story to see when it was last updated.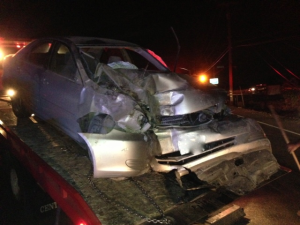 SACRAMENTO COUNTY—
A driver found herself in a scary situation after she crashed into some a power pole, causing live power lines to land on her car.
The crash happened just after 7 p.m. near Sunrise Avenue and Grant Line Road, Sacramento Metro Fire public information officer Michelle Eidam said. The woman's car landed on its side in a ditch, with the energized power lines sparking a grass fire.
Due to the position the car was in, and with the live power lines touching her car, authorities believe that had the driver gotten out she would have been electrocuted.
Fire crews who showed up to the scene were able to tell the woman to stay in the car and remain calm. She was later pulled from the car after a SMUD crew showed up and de-energized the lines and taken to the hospital.
However, while putting out the grass fire around the crash site, another fire started about a mile down the road. This fire – later found to be started by a transformer – threatened a home, necessitating a quick response by firefighters.
Crews were able to put out the second fire – which burned about an acre of land – right at the doorstep of the home. The grass fire started by the car crash was contained at ¼ an acre.