This is an archived article and the information in the article may be outdated. Please look at the time stamp on the story to see when it was last updated.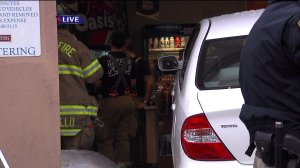 SACRAMENTO-
A car slammed into a convenience store Thursday, after pumping gas.
It happened at the corner of Howe and El Camino Avenues.
The driver had just filled their tank, when their accelerator stuck and they drove right into the AMPM store.
The driver is ok, and it appears that no one inside the store was hurt.