This is an archived article and the information in the article may be outdated. Please look at the time stamp on the story to see when it was last updated.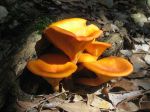 LOOMIS-
The caregiver who unknowingly included poisonous mushrooms in a soup that killed four seniors and sickened several others has had her license revoked.
The Department of Social Services investigated the Gold Age Villa, on Horseshoe Bar Road in Loomis, and slapped caregiver Lilia Tirdea with a lifetime exclusion.
The ban keeps Tirdea from being employed at any other care facility licensed by the state.