This is an archived article and the information in the article may be outdated. Please look at the time stamp on the story to see when it was last updated.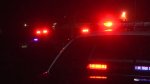 STOCKTON-
A violent scuffle reportedly broke out Thursday night during a girls' basketball game at McNair High School in Stockton.
Tom Gonsalves, head coach of the St. Mary's girls team, said a female spectator attacked the freshman St. Mary's coach's wife during the freshman game.
"There was no administration present and it got ugly," he told FOX40. Gonsalves said several people were involved in the fight.
Police are investigating the attack, but said no one needed medical attention.
Gonsalves didn't say whether or not St. Mary's would postpone or forfeit the game against McNair.