This is an archived article and the information in the article may be outdated. Please look at the time stamp on the story to see when it was last updated.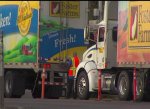 LIVINGSTON-
Consumer Reports is asking Foster Farms to recall raw chicken products contaminated with salmonella.
Packages of raw chicken from Foster Farms with the codes P6137, P6137A and P7632 have been linked to a salmonella outbreak in 18 states. Health officials said this week that around 278 people were made sick by the bacteria – six in Stanislaus County and 11 in Sacramento County.
The USDA gave Foster Farms until Thursday to fix its salmonella problem.
FOX40 confirmed Thursday morning that Safeway stores will begin removing the tainted product from its shelves. Consumer Reports believes that chains owned by Kroger, including Food 4 Less, will also start removing the products.
Save Mart stores said that they would have an updated policy soon, but they've been refunding customers concerned about the product since the beginning of the outbreak.
Health officials say that if you have a package of chicken from one of those three Foster Farms plants, either throw it away or make sure to prepare the chicken properly. It's best, however, to just avoid the products with those codes.
Read Consumer Reports' post by clicking here.