This is an archived article and the information in the article may be outdated. Please look at the time stamp on the story to see when it was last updated.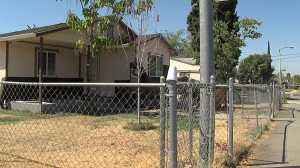 SACRAMENTO-
A pit bull was shot by a Sacramento Police officer Monday, after the dog allegedly attacked the cop.
The officer was handling a domestic violence call along Grand Avenue. He decided to take the situation outside, and one of the two pit bulls at the home followed the adults into the yard.
The pit bull was able to corner the officer, and the officer had to shoot multiple times at him. The dog was hit once in both front legs, and it is believed one of the legs is broken.
The officer was not hurt, and according to a police spokesman, the dog is expected to be ok.
The City of Sacramento usually covers the first $300 of medical treatment in a situation like this according to an animal shelter spokesperson, and then the medical care becomes the responsibility of the animal's owner. The owner can file a claim with the city to seek repayment.