This is an archived article and the information in the article may be outdated. Please look at the time stamp on the story to see when it was last updated.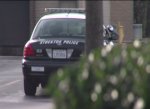 STOCKTON-
Police say they had to shoot two dogs because they were too aggressive.
Neighbors called Stockton Police Sunday night after the two pit bulls attacked and killed someone's pet dog.
Cops found the two pit bulls, and when other capture devices and methods did not work, they say they were forced to shoot both dogs to protect themselves and neighbors.