This is an archived article and the information in the article may be outdated. Please look at the time stamp on the story to see when it was last updated.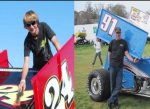 YUBA COUNTY-
The two victims of Saturday's crash at the Marysville Raceway died of blunt-force trauma, the coroner's office announced Tuesday.
Marcus Johnson, 14, and 68-year-old Dale Wondergem Jr. were killed when a winged sprint car went into the pit area where they were standing. The crash happened during warm-up laps and officials don't know exactly how fast the car was going.
Johnson's official cause of death was trauma to the head, chest and abdomen. Wondergem died from trauma to the head and chest.
The driver of the car, Chase Johnson, was uninjured.