This is an archived article and the information in the article may be outdated. Please look at the time stamp on the story to see when it was last updated.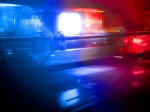 DIXON-
Firefighters from Dixon and Vacaville are working together to extinguish a three-alarm blaze that was taken over a hangar at the Maine Prairie Airport.
Crews first responded at about 9 p.m. Thursday.
Three trailers are also on fire.