This is an archived article and the information in the article may be outdated. Please look at the time stamp on the story to see when it was last updated.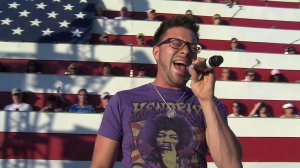 ROCKLIN–
Danny Gokey was an American Idol finalist back in 2009.  Now he's the voice that's expected to draw 30,000 people to Rocklin's Twin Oaks for Celebrate America.
This is Danny's second time singing at the event, which is hosted by Destiny Christian Church.
He says it was faith that sustained him when his first wife died from heart surgery complications, a month before his American Idol audition.
Now the necklace he wears bears the logo of "Sophia's Heart," a multi-state organization Danny started in her name.
It helps kids, the homeless, and soon will be opening an office at Destiny Christian Church, and he'll call Rocklin home.