This is an archived article and the information in the article may be outdated. Please look at the time stamp on the story to see when it was last updated.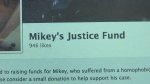 DAVIS-
It was a late night assault like any other in Davis – two men involved, one more seriously injured than the other.
On the receiving end of that brutal beating was 31-year-old Mikey Partida, who suffered a fractured skull and a brain bleed. The incident happened on I Street near 3rd Street around 3 a.m. and may have had undertones of hate.
"There are allegations the assault may have revolved around the sexual orientation of the victim," said Lt. Glenn Glasgow of the Davis Police Department.
Detectives tell FOX40 a suspect has been developed in this crime and there may be an arrest and charges filed soon.
Partida's friends have taken to Facebook, creating Mikey's Justice Fund – trying to collect money to help him financially while he recovers physically.