This is an archived article and the information in the article may be outdated. Please look at the time stamp on the story to see when it was last updated.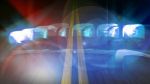 SAN JOAQUIN COUNTY-
A deadly crash has shut down Highway 12 at the Mokelumne Bridge near Lodi, the CHP said Thursday morning.
Officers say a big rig collided with a car shortly before 8 a.m. The collision was said to be head-on.
That portion of Highway 12 will likely be closed for some time, as officers investigate and clean up the scene.