This is an archived article and the information in the article may be outdated. Please look at the time stamp on the story to see when it was last updated.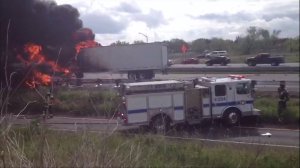 DAVIS-
Drivers wanting to go through Davis Thursday afternoon are being asked to use alternatives, including Highway 113 or Highway 12.
Emergency crews are working to remove crashed cars from multiple lanes of I-80 in both directions. At least two cars and a semi truck were involved in the accident.
Eastbound traffic could open in the early afternoon, westbound lanes will stay closed for several hours.