This is an archived article and the information in the article may be outdated. Please look at the time stamp on the story to see when it was last updated.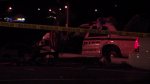 FAIRFIELD-
A Solano County Sheriff's deputy's car slammed into a light pole during a chase Wednesday evening along Highway 12.
The person the deputy was chasing reportedly fled on foot into a nearby field, but has since been caught. His female passenger was also arrested. The two were in a stolen car, investigators say.
The deputy was sent to the hospital, but the Sheriff's Department says he'll make a full recovery.
Highway 12 between Pennsylvania Avenue and Beck Avenue was shut down as authorities investigated the crash.