This is an archived article and the information in the article may be outdated. Please look at the time stamp on the story to see when it was last updated.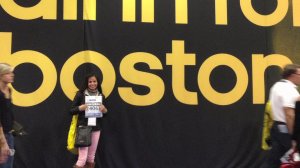 DIXON-
Marathon runners slowly return home from Boston including one Dixon mother who headed east to help save her daughters life.
Zenaida Jimenez was thirteen minutes away, still running toward the finish line when the explosions happened Monday afternoon.
"And then I saw a girl turn around and say, 'There is a bomb, there is a bomb,' but she looked so scared," said Jimenez.
Jimenez thought it was a joke, even after seeing white smoke she continued running.
She kept thinking of her daughter Cristia Isabel, 6, who suffers from Retts syndrome.
"All I pray for is to see my daughter breathe normal like any other child," said Jimenez.
Jimenez, who had never run before she started training for the Boston Marathon six months ago to raise money for a cure for Retts Syndrome.
The disorder impairs the nervous system, impacting her daughter's motor skills and breathing.
Back at the race, Jimenez stopped once she learned what had happened. She immediately thought of her sister who was waiting for her at the finish line.
"That is when it got real," she told FOX40.
Once learning her sister was safe, Jimenez was overwhelmed by the number of people who began helping each other.
Today, Cristia Isabel is doing O.K. but she still struggles with breathing.
Jimenez's team Rett raised $125,000 and she hopes next year she will get to cross the finish line with her daughter in better health.
To help raise money for finding a cure for Rett Syndrome, click here.