This is an archived article and the information in the article may be outdated. Please look at the time stamp on the story to see when it was last updated.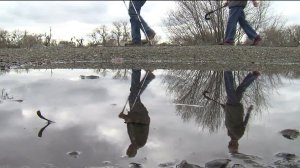 SACRAMENTO-
We haven't seen a storm like this weekend's since last winter. It was a relief for residents, even those who welcomed a break in the rain.
"My backyard is finally looking green instead of like we live in Tuscon," Sacramento resident Gary Brill-Lehn said. He had taken his grandchildren to the McKinley Park playground after the storm.
And even construction workers who had to clear out clogged drains weren't complaining.
"It's a drought, so they say they need water so they got a lot of it," construction worker Shannon Sevier said.
The latest storm brought enough rainfall to raise the level of the Sacramento River.  You'll see in rise about five feet in the day or so as it collects run off from streams and storm drains from cities.
The problem is that not much of the water will be saved to help get us through the drought.
Sierra rain gauges at selected locations show we're still way behind even though we've doubled our accumulated rain.
"We should be at 30 inches, we're now at 11 or 12. It's a lot better than 5," Maury Roos, Chief Hydrologist for the Department of Water Resources, said Monday.
The snow pack is still at only 20 percent of normal.
And the bulk of the storm came through in a narrow band from Chico to around Stockton.
Meaning Shasta Reservoir and reservoirs near Fresno weren't helped a lot.
But Folsom and Oroville are getting a shot in the arm. The storm may put 17 feet of water into Folsom Lake, and around 14 feet into Lake Oroville.
The storm was able to saturate the ground, meaning future storms should bring more runoff. It also means that we are no longer at a pace to rival the record drought of 1977.
"We need quite a bit more than this to have a comfortable water supply, but at least we're out of the cellar," Roos said.