This is an archived article and the information in the article may be outdated. Please look at the time stamp on the story to see when it was last updated.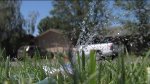 BAKSERSFIELD (KBAK)-
The drought in California has meant drastic cutbacks in water consumption, and that can make some people feel a little sensitive seeing neighbors wasting water.
Need to vent? There's an app for that.
Some turn to social media to shame water wasters. But apps like "Vizsafe" and others are becoming popular, letting users share posts about water wasters in their neighborhood. The smart phone app allows users to upload anonymous photos showing water being wasted, and the location.
There are concerns the shaming can get out of hand.
"A good neighbor will go to the neighbor, knock on the door and will say, 'hey did you know you have a leak on your sprinkler? Did you know your sprinkler's been running for the last hour? Do you know there is a state reg now?' But shaming each other, that's the wrong way to do it," Rudy Valles, Cal Water District Manager, told KBAK.
There are also several hashtags being used on twitter to convey people's frustration with water wasters.