This is an archived article and the information in the article may be outdated. Please look at the time stamp on the story to see when it was last updated.
LOS FELIZ (LATimes.com)-
The proprietors of "Dumb Starbucks," a coffee shop that opened for business in Los Feliz on Saturday, say their establishment is a parody of the Seattle-based corporation.
The mock store, which quietly opened Friday, is nearly identical to a typical Starbucks location, with tumblers and CDs, including "Dumb Jazz Standards," on display — but not for sale.
READ: Starbucks Responds to 'Dumb Starbucks'
Drinks are served in cups that mock the Seattle coffee giant's logo, while pastries are pulled from display cases straight in their Vons' packaging.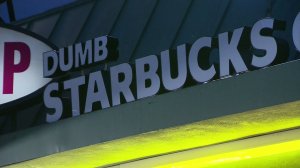 The menu features such offerings as Dumb Iced Coffee, Dumb Frappuccinos and Wuppy Duppy Latte.
But only iced coffees and lattes were available — free of charge — to promote the new business, an upbeat barista told customers after apologizing for the wait. Just two workers staffed the busy store, and merchandise was being delivered throughout the afternoon.
In Case You Missed It: