This is an archived article and the information in the article may be outdated. Please look at the time stamp on the story to see when it was last updated.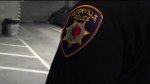 ROSEVILLE-
Roseville Police say a man spotted a stranger riding his daughter's stolen bike Saturday.
According to investigators, the BMX-style bike was stolen in a June 11 burglary at the family's home on Harding Boulevard.
The dad called police and followed the suspected burglar until officers could arrive, Roseville Police said.
The man was arrested for burglary, possession of stolen property, possession of methamphetamine, having outstanding warrants and resisting arrest.