This is an archived article and the information in the article may be outdated. Please look at the time stamp on the story to see when it was last updated.
ELK GROVE — An Elk Grove man is being hailed as a hero after rescuing three people from a burning car early Sunday morning.
In his quiet Elk Grove neighborhood, Jeff Garrett got a surprising wake-up call around 5:30 a.m.
"I just heard a loud bang," he told FOX40. "I didn't know exactly what it was because I was sound asleep."
So, he got out of bed, went into his backyard and looked over his fence to find out what was going on.
"I heard a gentleman coughing and it sounded like he was in distress," Garrett recalled. "So, I looked over past some trees to the left and I saw the burning car. The engine compartment was already fully in flames."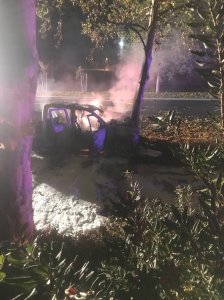 A truck had run off of Laguna Boulevard and into a tree. Without hesitation, Garrett climbed over the fence and ran toward the burning car to help.
"I was a bit afraid of what I was going to see because it was clearly a bad accident. So, I wasn't sure what I was going to see when I opened the doors," Garret said.
The three people in the car were badly injured.
"I heard the gentleman in the driver's seat cry out in pain. He was in flames at that point. His left leg was in the fire," Garrett said.
Garrett worked quickly to unbuckle the driver and two passengers and get them to safety.
"After that, I looked back and the whole cab was completely engulfed," Garrett told FOX40.
The driver and two passengers were taken to the hospital, one with life-threatening injuries.
Police say, had Garrett not been there, the three people in the car likely would not have made it out alive. They say Garrett is a hero.
Garrett's wife, Jennifer, agrees.
"I'm really proud. Not many people would have stepped up and done something like that," she said. "He doesn't hesitate to help people. He's a quick thinker."
Garrett said he is just thankful he was in the right place at the right time.
"I'm just glad I was there in a position to help out," he said.