This is an archived article and the information in the article may be outdated. Please look at the time stamp on the story to see when it was last updated.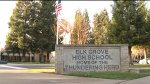 ELK GROVE-
Elk Grove Police say the high school student posed a "credible threat." That means the student had the intension and the means to do violence.
"They had threatened a teacher and students. Law enforcement immediately investigated," said Elizabeth Graswich, spokesperson for the Elk Grove Unified School District.
the threat happened off campus, and Elk Grove Police detained the students for a 72-hour mental health watch. Meanwhile, the school district sent a letter home with students explaining to parents what had happened.
"I feel like the schools are safe," said Brandon Webb, a recent graduate of Elk Grove high School. "But it's just the people that go to the schools. I feel like there's a lot of stress that kids have these days, and sometimes people just snap."
And to make certain the schools are as safe as possible in case something like that happens, the Superintendent convened a meeting with all 62 District Principals to talk security.
"This was just another opportunity to talk about what's being said at schools and what parents are asking about," Graswhich said.
Graswhich said all Elk Grove Schools already have an up-to-date security plans and systems in place.