This is an archived article and the information in the article may be outdated. Please look at the time stamp on the story to see when it was last updated.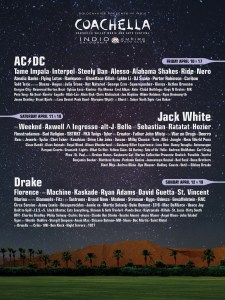 INDIO, CA-
AC/DC, Jack White of the White Stripes, and Drake will be the three headliners for the 2015 Coachella Music Festival.
According to the festival's website, Indio's annual music festival will feature a slew of large acts on the weekends of April 10th and April 17th.
The website announced the lineup just over 24 hours before tickets for the event go on sale.