This is an archived article and the information in the article may be outdated. Please look at the time stamp on the story to see when it was last updated.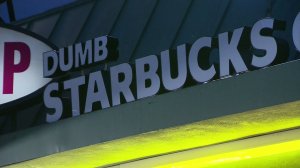 LOS ANGELES (Los Angeles Times)-
Nathan Fielder has come out as the prankster behind Dumb Starbucks, the parody coffee shop in Los Feliz that saw enthusiastic crowds for its off-label coffee and Vons pastries.
Fielder is the star of the Comedy Central reality show, "Nathan For You." It's known for its pranks, usually focused around small businesses. In one skit, he had a gas station owner offer dirt-cheap gas prices for anyone willing to drive up a mountain to drop off a rebate form.
"There have been lines around the block and very few small businesses get that from the start … ," Fielder told a crowd of reporters when he revealed himself to be the instigator of Dumb Starbucks.
In a video posted to YouTube, Fielder says that the store isn't a joke.
"This is a real business I plan to get rich from," he said.