This is an archived article and the information in the article may be outdated. Please look at the time stamp on the story to see when it was last updated.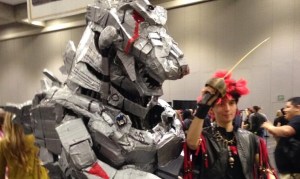 SACRAMENTO-
Though firm numbers have yet to be tallied, the Sacramento Convention and Visitors Bureau and convention organizer Wizard World agree that this weekend's Sacramento Comic Con was an economic success for the city.
"We estimate that between 1,200 and 1,500 hotel rooms will have been utilized and the economic impact will be more that $2 million for the weekend.  It was a great event for Sacramento," Mike Testa said in an email to FOX40. Testa is the Visitors Bureau's senior vice president of convention sales and business development.
PHOTOS: The Costumes of the Sacramento Comic Con
A representative from Wizard World, the organizer and promoter of the three day traveling event, say the conventions first year in Sacramento was very impressive. So much so, that the group is considering bringing the convention twice a year to Sacramento.
The 2015 Wizard World Sacramento Comic Con is slated for June 19 to June 21.