This is an archived article and the information in the article may be outdated. Please look at the time stamp on the story to see when it was last updated.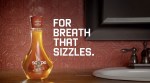 Scope released their ad for bacon flavored mouthwash recently, which has left many people confused.
Is the flavor really a new addition or is it an April Fool's joke?
On their website, Scope says while their new mouthwash tastes like bacon to the user, it will not actually leave your breath smelling like the salty meat. Instead, they say the mouthwash will leave your breath minty fresh.
Take a look for yourself and let us know what you think.