This is an archived article and the information in the article may be outdated. Please look at the time stamp on the story to see when it was last updated.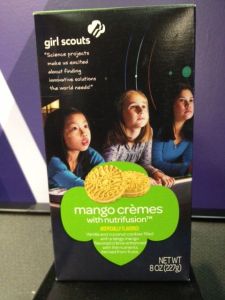 It's Girl Scout cookie day! Celebrate by trying their new flavor, Mango Cremes, and then download their app to help you get your cookie fix.
Their app, re-launched this year with more features, is called "Cookie Finder". It helps connect cookie-hunters with girl scouts and troops selling in the area. It's available in both the iTunes and Android app stores.
The newest cookie, Mango Cremes with Nutrifusion, is mango-flavored filling between vanilla and coconut cookies. Nutrifusion is a company that creates an "all-natural blend of whole food concentrations" according to their website.
The cookie package claims the newest Girl Scout creations contain extra A and B vitamins.