This is an archived article and the information in the article may be outdated. Please look at the time stamp on the story to see when it was last updated.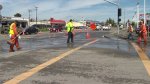 FAIRFIELD-
Construction workers spent the day cleaning a layer of water a mud from North Texas Street at Bell Avenue after a 12-inch water main broke.
The old cast iron line was being replaced by an updated plastic line that was just weeks from being put into service.
Public works officials say water was being flushed through the old system when it broke causing motorists to drive through a muddy mess that went up to the axles of their vehicles.
Jesus Huerta saw something strange around 10:30 am outside Encore European Motors where he works.
"The asphalt kept coming up, coming up like something's going to come out of the dirt," said Huerta.
What eventually came up was thousands of gallons of water as well as gravel and mud.  One woman in a mini-van drove into a trench where the new water main was installed and was stranded with her three kids for a time when her wheels got stuck in the mud.
About 8 business along North Texas Street lost water service for a time.  An emergency crew worked quickly to dig up the spot where the leak occurred to make repairs. A multi-million dollar installation of 4,000 feet of replacement pipe began this spring. The old pipe could be as much as 70 years old.
"It's the last segment of cast iron main along the Texas street corridor.  We're in the process of getting that replaced and it has failed several times in the last five to six years," said Steven Hartwig, Fairfield Assistant Public Works Director.
Hartwig says the accident is a visible example to residents what can happen when aging infrastructure isn't replaced.