This is an archived article and the information in the article may be outdated. Please look at the time stamp on the story to see when it was last updated.
SACRAMENTO–
A day after sheriff's deputies pull permits and seize 17 bodies from a Modesto funeral home under criminal and civil investigation, one grieving family has new fears about what happened with their loved one.
"If this is not him where's my husband? Where's his body," asks Willie Cotton.
Those are questions Willie Cotton never thought she'd be asking about the man she loved for 25 years. She never thought she'd have nagging questions after paying a now shuttered funeral home to cremate  him and spread his ashes between several urns and special lockets.
"That was the purpose, that he wanted to be cremated so that we could have a part of him," she said.
Soon after, Dewey Cotton senior was memorialized in March. His wife and 10 children began asking Shaun McGuire of McGuire Crematorium and Funeral Services about his ashes.
McGuire promised them by March 16 — Dewey's birthday — but they arrived much, much later.
"That whole time, them 35 days, we're calling back and forth and couldn't get an answer," said Donovan, Cotton's son.
When the remains were finally delivered to the Cotton home, family members say they immediately felt something was wrong. Promised lockets were empty and the consistency of their loved one's remains seemed off. The I.D. tag other morticians tell FOX40 should have been burned with the body was found loose in the bag of supposed ashes.
The Cottons don't believe it's him and reports of an investigation at McGuire's have them even more concerned.
"My  Dad's not at peace … It's hard. I don't eat, I barely sleep," said Cotton's daughter Thomasina.
Sheriff's deputies investigating McGuire's have asked the Cottons to bring in what's supposed to be their loved one.
For now, all Willie Cotton can do is console herself with happy memories.
"Dewey was a romantic. He would be walking from the store and have the kids with him and pick me flowers," said Willie.
She hopes trying to honor her love isn't the nightmare she fears.
Shaun McGuire has yet to comment to FOX40 about the Friday raid or the Cotton's concerns.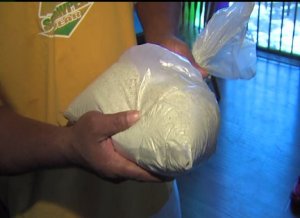 Related Stories:
17 Bodies Removed from Funeral and Cremation Business
Coroner: 17 Bodies Removed from Modesto Business, Permits Suspended May 1