This is an archived article and the information in the article may be outdated. Please look at the time stamp on the story to see when it was last updated.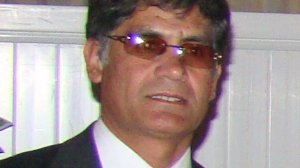 NATOMAS-
Ghulam Ayobi, 53, was shot in the front passenger seat of his minivan by one of two people hiding in the back seat early Sunday morning.
Ayobi and his wife had just left a friend's house in Natomas when they were accosted by the pair.  Ayobi's relatives told FOX40, Ayobi was handing over his wallet when he was shot in the head.
Sacramento police are still piecing together what happened.  They have no suspect information.
About five hours earlier, two young men, one of them armed with a gun, robbed a man as he left his vehicle and walked to the front door of a house on Fredericksburg Way.
Both men in the robbery on Fredericksburg Way are described as Black, 18 to 19-years-old and thin.  They left in a Nissan Maxima or an Infiniti sedan with tinted windows.
Ayobi's family is asking anyone who saw or knows anything to contact the Sacramento Police Department.
"There was no reason for them to take their father's life," said Munir Safi, Ayobi's nephew.
Relatives told FOX40, Ayobi worked as a civilian in the U.S. Army teaching soldiers about life in Afghanistan.
"Shortly after 9/11 he joined the U.S. Army as a cultural specialist," said Safi.  "So the soldiers would know what to expect and how to approach civilians in Afghanistan."
Ayobi returned home from Louisiana, on leave, the day before he was killed. He leaves behind a wife and four children and a large extended family.
Funeral arrangements are being made for Thursday or Friday of this week.
Report filed by Teri Cox