This is an archived article and the information in the article may be outdated. Please look at the time stamp on the story to see when it was last updated.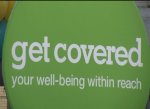 SACRAMENTO-
Those hoping for an extension on signing up for healthcare in time to be covered next year, in California the deadline is still Monday night to start the application.
The Obama administration announced Monday morning there was a one-day extension for those signing up on the national healthcare.gov website. However, California is one of a handful of states who have their own state-level exchanges.
The Executive Director of Covered California clarified the deadline for Californians to sign up in order to have coverage by January 1 is Monday night.
"If someone starts the app today & gets stuck because of tech issue, we will get you across the finish line," Peter Lee, Covered California Executive Director said.
To find more information about Covered California, visit their website at CoveredCA.com, or call (800) 300-1506.
We want everyone to finish the app today, but we will help you if you don't make it through today, reiterates #CoveredCA Ex. Dir.

— Covered California (@CoveredCA) December 23, 2013