This is an archived article and the information in the article may be outdated. Please look at the time stamp on the story to see when it was last updated.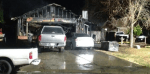 ELK GROVE –
A fire charred an Elk Grove garage early Friday morning and sent a family of five and their two dogs running out of their home before dawn.
The fire started on Gamay Way near Elk Grove Boulevard and Waterman Road around 5 a.m. Firefighters said they arrived on the scene to see the garage burning and smoke blowing out.
Cosumnes Fire says the fire was confined to the garage.
The family is  currently staying with neighbors.
As of 6 a.m., the cause of the fire was unknown.