This is an archived article and the information in the article may be outdated. Please look at the time stamp on the story to see when it was last updated.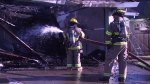 SOUTH SACRAMENTO –
Firefighters were able to quickly extinguish a home fire in South Sacramento Tuesday evening, preventing it from spreading to neighboring houses.
Crews were sent to a home along Olander Way, off of Cliffcrest Drive, after receiving a report of a structure fire at 5:49 p.m. When the units arrived, they discovered that the fire, which originally started in the garage of the home, had spread to the roof.
The firefighters leapt into action, stopping the fire from spreading before dousing the flames in the garage and on the roof in about 20 minutes. After the all-clear, the crews began salvage and overhaul efforts, though both the garage and roof areas suffered extensive damage.
About 90% of the home suffered some sort of damage. An elderly couple lives at the house, but they weren't home at the time of the fire.
The cause of the fire is unknown at this time, though the matter is under investigation.
Ruben Dominguez and Luana Munoz filed this report.